Do you want to have your beloved designer bag transformed into a one-of-a-kind masterpiece? This listing is for a custom hand-painted artwork on YOUR high-quality designer leather handbag (Louis Vuitton, Gucci, Prada, etc.).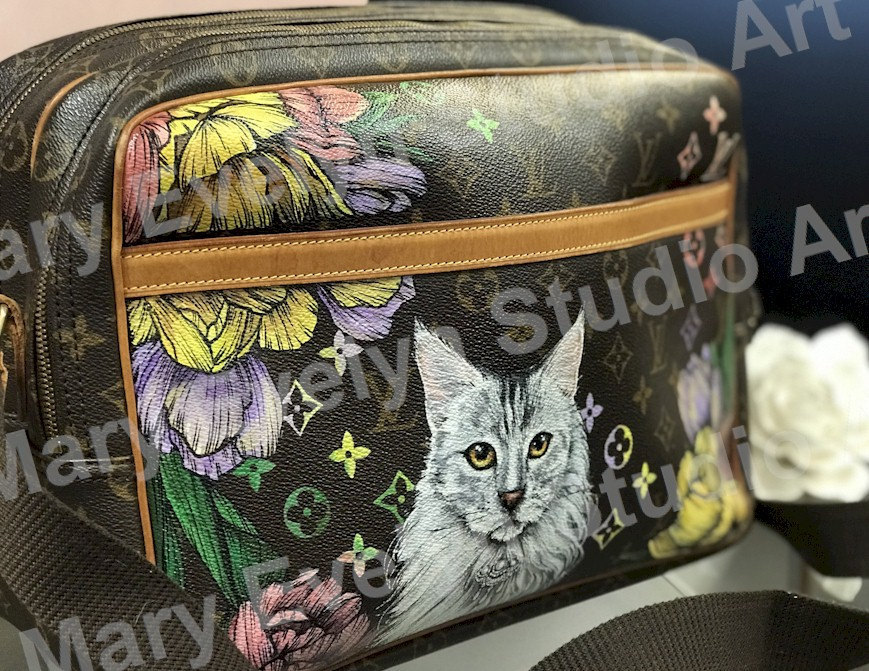 (Please be aware that the bags in the photos are merely examples of my previous work.  They are not for sale.)
To get started, contact me with your bag details and your creative vision. I'm here to assist you in turning your ideas into reality. Whether it's bold elegant florals or intricate pet portraits, I will bring them to life with high-quality acrylic leather paints that are water-resistant and easy to clean.
Here's how the process works:
Reach out to me before placing your order to discuss your design, size, and pricing based on the complexity.
Provide clear, color photos of your bag and your chosen subject/inspiration. For pet portraits, multiple photos from different angles are preferred for the best results.
I will create a mockup for your approval.
Once we finalize the details, I give you the price of your custom artwork, and I will send you a PayPal invoice that is for a non-refundable deposit.
You will ship your bag to me with insurance and a signature required.
I will create your unique artwork. Please allow 3-5 weeks for completion.
I will send you high resolution photos of the painting upon completion.
After final approval, you need to pay the remaining balance due for the artwork.
Once the payment is complete, I will ship your custom-painted bag back to you, insured and with a signature required, so you can cherish it for years to come.
Look at my other creations for inspiration and explore the possibilities of personalized art on various items: handbags, wallets, and accessories. Thank you for your interest. I can't wait to collaborate with you on your unique masterpiece!  If you have any questions or other custom requests, feel free to message me.
Returns and exchanges are not accepted. However, if you encounter any issues with your order, please don't hesitate to get in touch with me.
Disclaimer: I am not affiliated with or endorsed by any of the handbag brands mentioned in my listings. My custom paintings on designer bags are a result of my artistic expression and craftsmanship. The brand names are used for descriptive purposes only and do not imply any association or endorsement. My artwork is entirely original and meant to offer unique personalization. For any questions or concerns, feel free to contact me. Thank you for supporting my artistry!